This post summarizes gender representation in the founding, leadership, board, and scientific advisory teams of 162 biotech companies – observed between October and December of 2019.
Out of 162 companies listed on the "portfolio" pages of the big three Boston biotech venture firms (Third Rock Ventures, Atlas Venture, and Flagship Pioneering), 118 were still in business when I visited their websites. The "about us" pages on those websites listed 2570 distinct leadership roles. Those roles were filled by nearly that many unique people, though some notable individuals did make an impressive showing across a variety of different companies. I counted up the men and women, along with job titles, taking gendered pronouns at face value, and applying only the most basic of statistics.
Simple as A, B. C
My preliminary writeup only covered the first 67 companies on the list, alphabetically. At the end of that earlier post I mused (somewhat facetiously) that women leaders might be over-represented at the far end of the alphabet, making up for the under-representation I had seen so far.
This turns out to not be the case.
Although Zafgen did have an impressive 50/50 split of men and women in leadership, the gender ratios from that first post have been essentially borne out in this larger survey.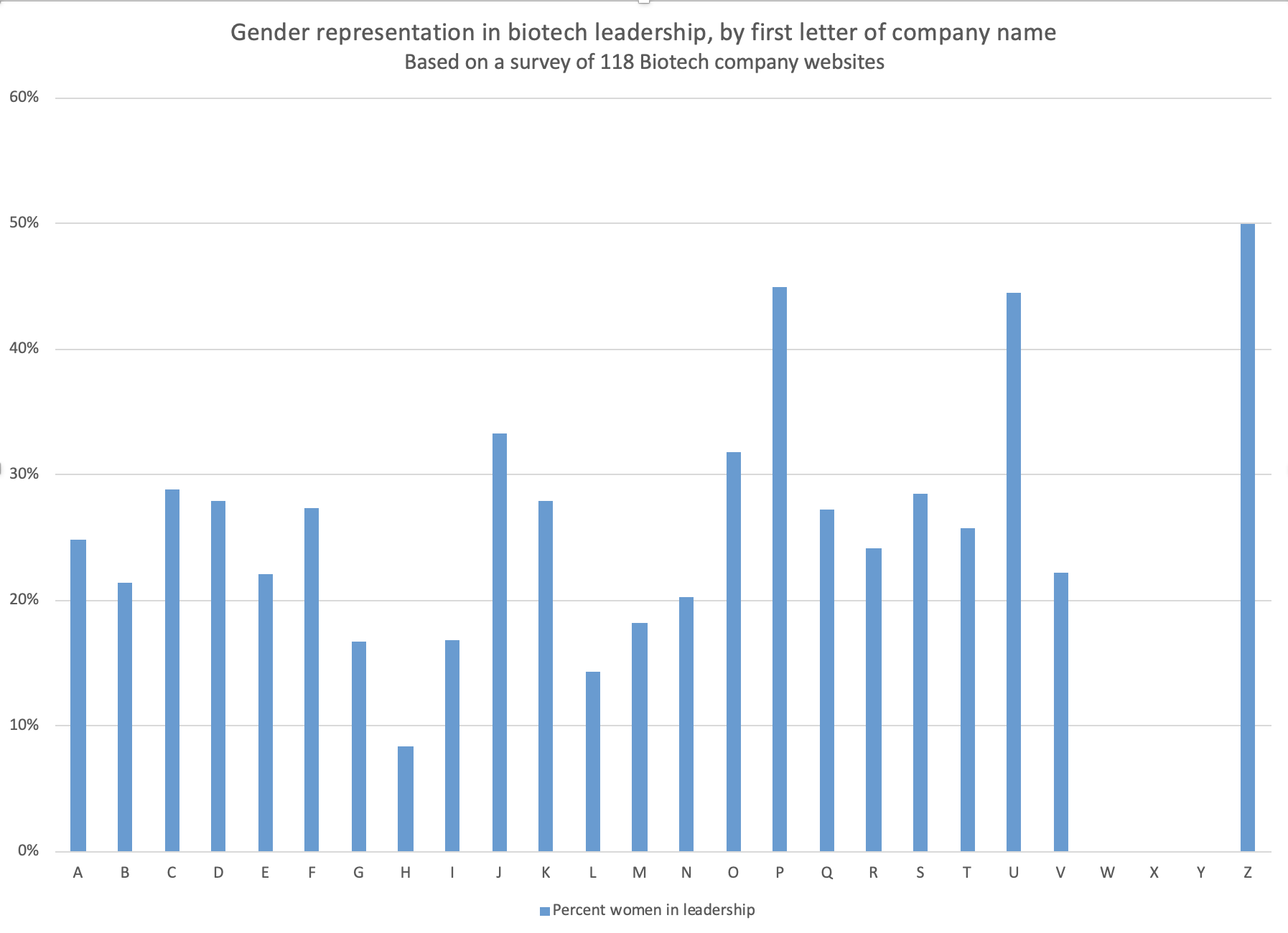 Key Performance Indicators
Eleven of the 162 "portfolio" companies have closed their doors. 38 were acquired, 53 made initial public offerings, and the remainder are still privately held. 118 of the companies are still recognizably in business, though some have changed their names and others operate as business units of larger parent organizations.
Out of 901 leaders serving within the businesses there were 643 men and 258 women (29%). This tracks with other recent surveys both of biotech and also tech more broadly. Boards of Directors have lower representation, with 659 men and 126 women (16%). Scientific advisory boards were an even more skewed population, perhaps more reflective of the academy, with 355 men and only 58 women (14%). Women account for just 32 (7%) of 471 of "founders."
I found seven companies whose websites showed a total of 61 people without including any women at all.
Rank and seniority
As in other recent surveys, the 29% overall representation of women skewed strongly by title. Women show up more frequently at the Director and VP level (~40%), less frequently in the C-suite (24%), and least of all as Chief Executive (13%).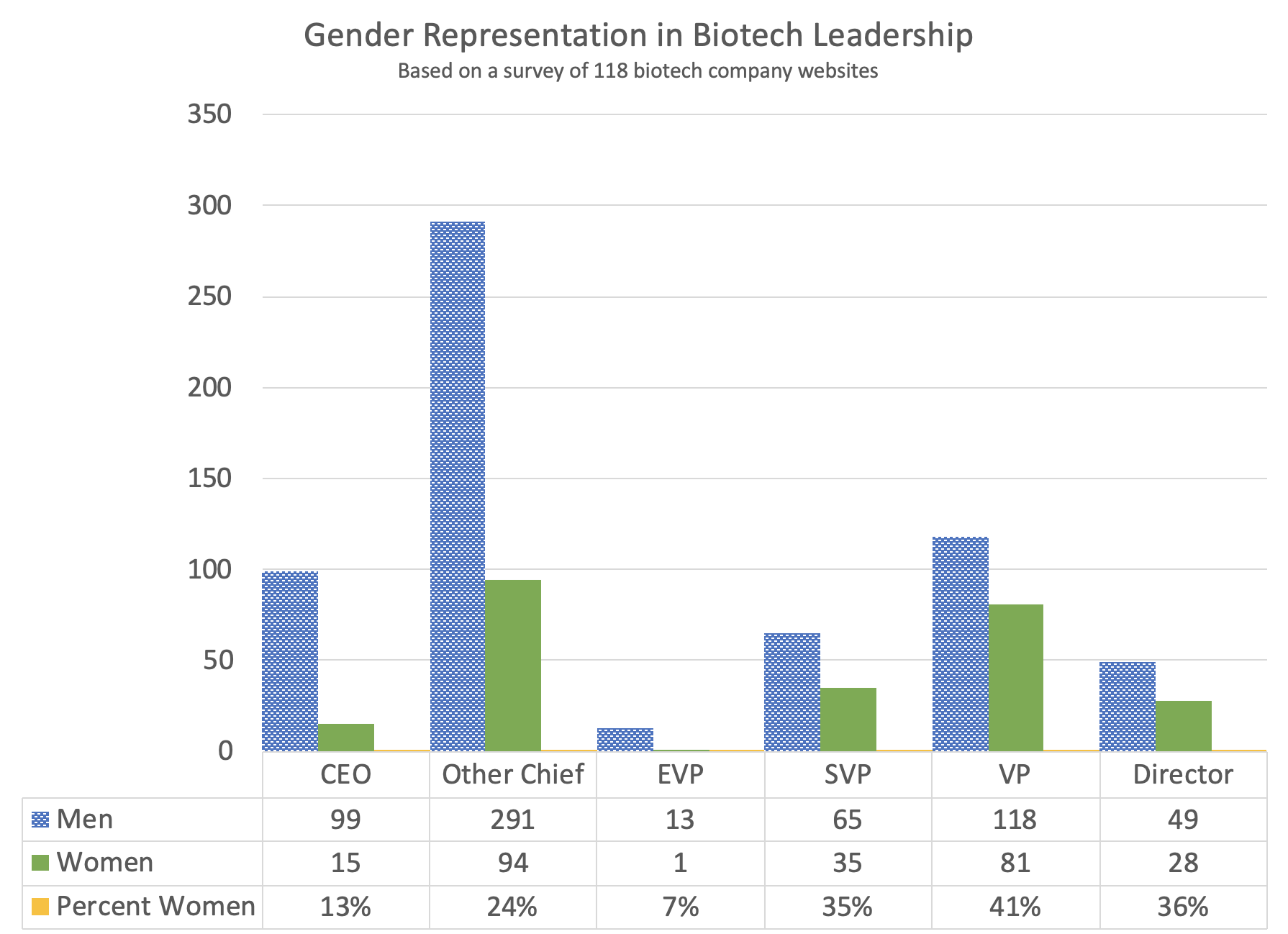 The pattern repeats (though with much smaller numbers) on Boards of Directors. This lines up with the "pipeline" narrative: CEOs and Board Directors are usually people who already have a strong history in the C-suite. Board chairs tend to be people with experience serving on several Boards.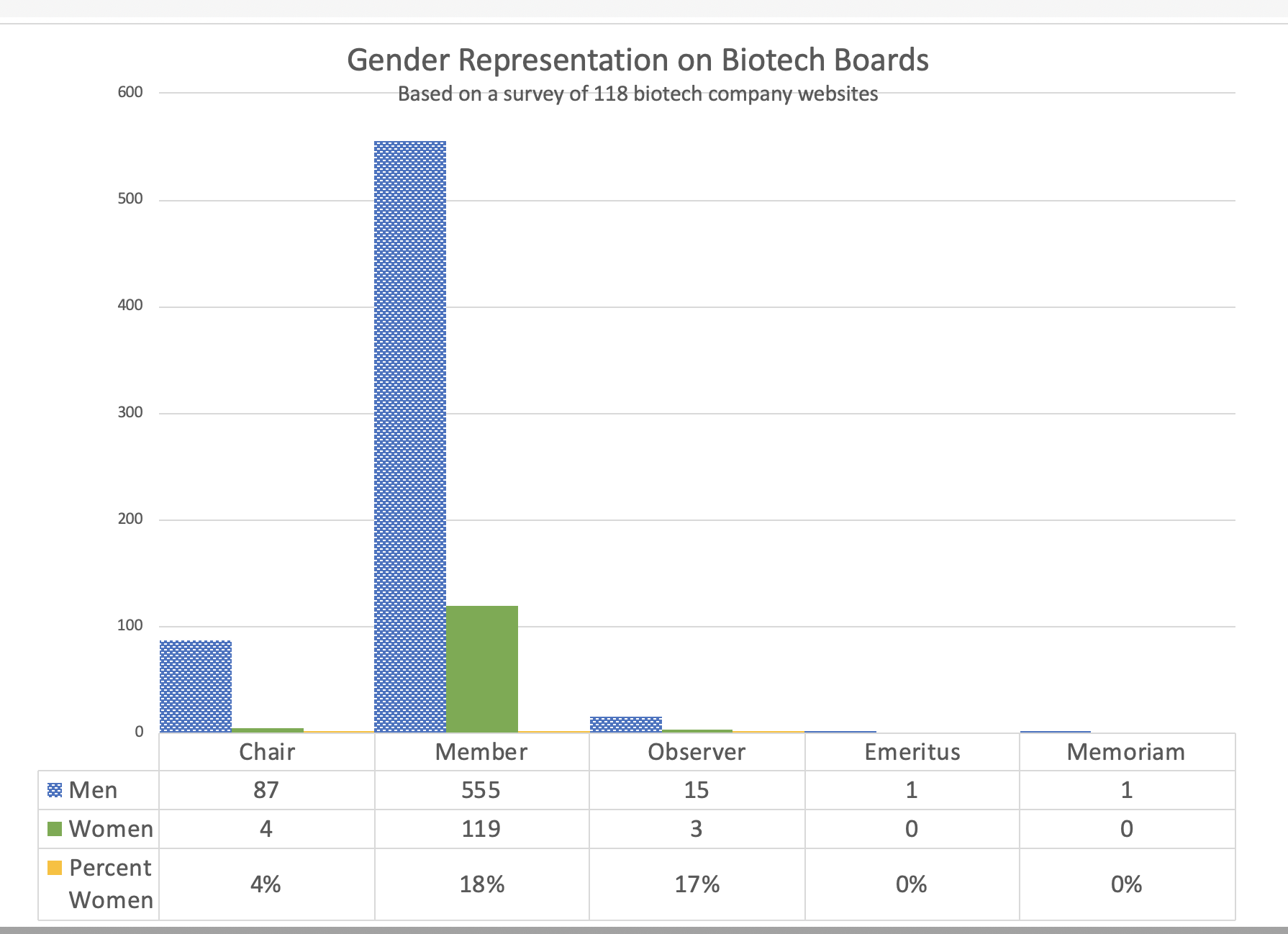 Founding a company is a way that an ambitious person can skip the line and serve as CEO early in their career. Women founders are rare among companies supported by the big three, even in recent years (7% to 17%). This representation will tend to maintain the current distributions rather than disrupting them.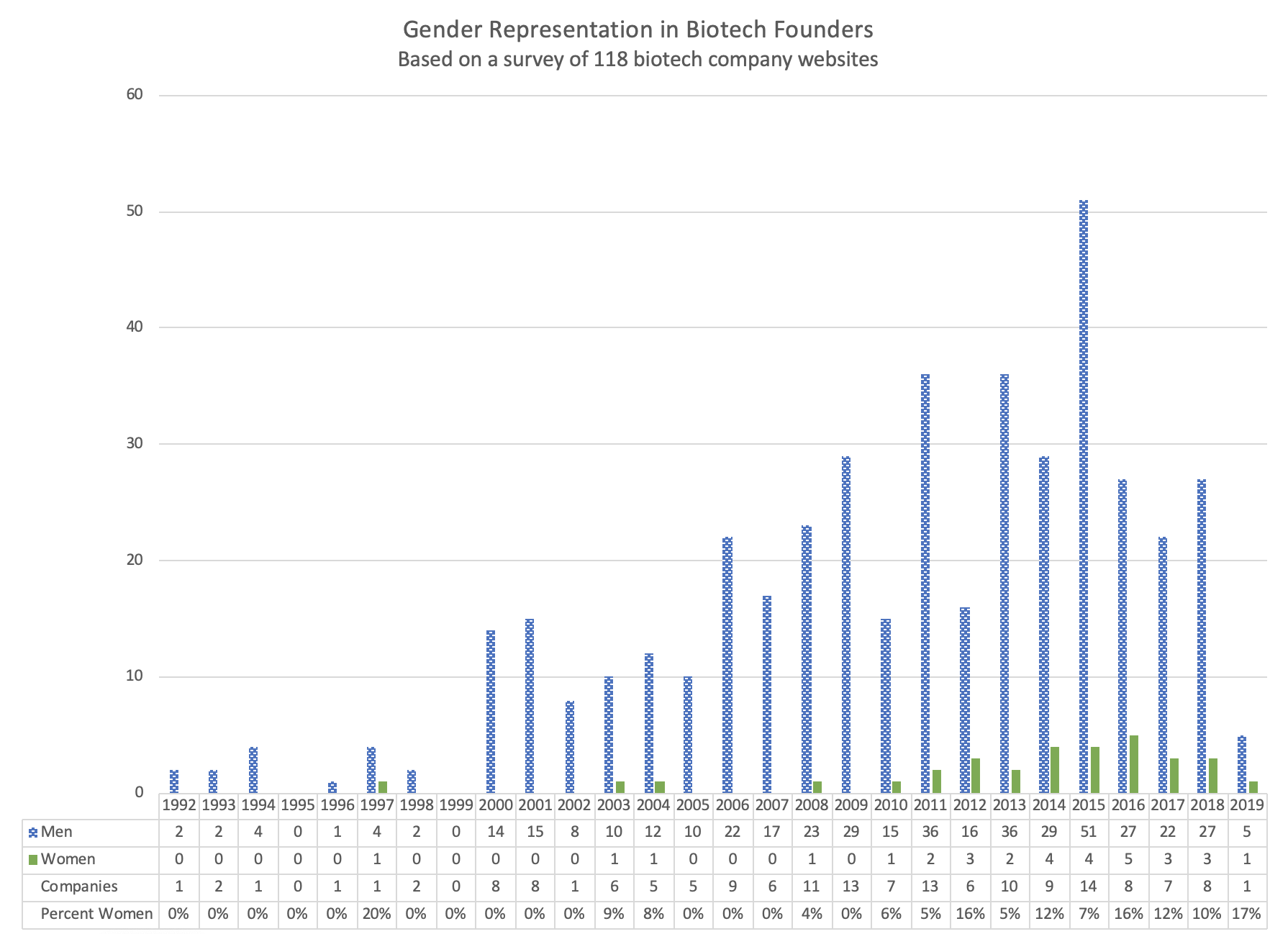 Specialties
When we take professional specialty into account, it becomes clear that the science and engineering "pipeline" is not really all that strong at the leadership level.
I exercised a bit of discretion and stacked directors and VPs of biology, chemistry, physics, proteomics, biophysics, virology, and so on into a single category named "science." Similarly, I binned VPs of people, human resources, people and culture, and so on into "HR." Clinical affairs, medical affairs, clinical science, clinical operations, and so on all became "medicine." General counsels, heads of compliance, and even health policy officers all wound up in "law."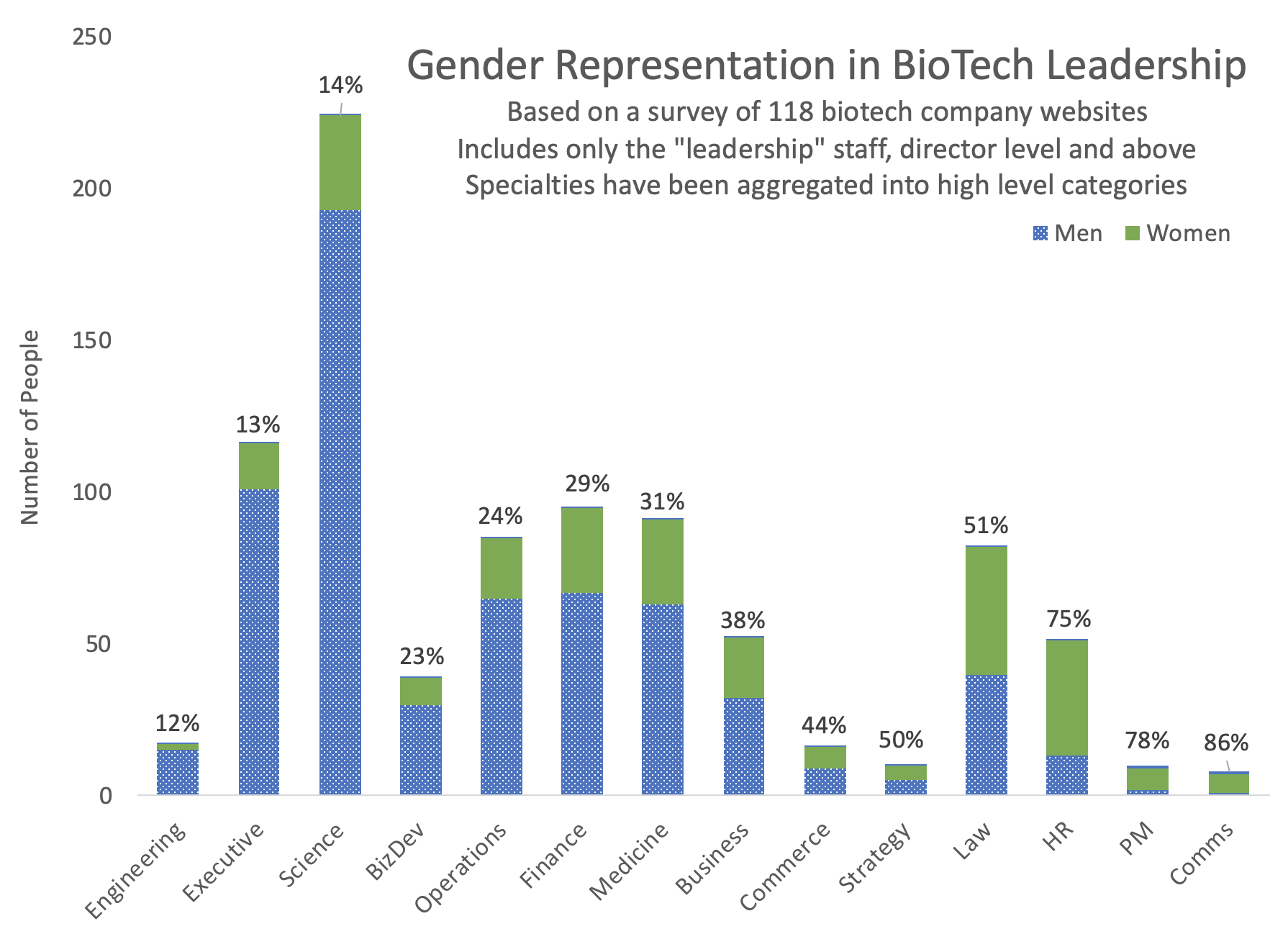 My findings mirror the distribution found in other studies. Women are a substantial majority in leadership roles for communications, HR, and project management. Strategy and law are about at parity, and one is only slightly more likely to find a woman leader, at any level, in "science" (14%) than to find a woman CEO (13%). Women engineering leads, at 12%, are rarer than women CEOs.
Whatabout
One might ask whether those women CEOs represent the tip of the spear, building the next generation of women leaders. The data says 'no.' When I split out companies according to the gender of the CEO, removing the CEO themself from the count, I was left with 32% women on the men's leadership teams and only 18% on the women's. This aligns with the lived experiences I heard about at a recent meeting of the Rosalind Franklin Society. Several speakers described male mentors and sponsors as being not just more numerous, but also more effective than the women.
Diversity statements on the "careers" page do correlate with slightly higher representation of women in leadership (33% vs 24%), though those come in a variety of flavors. My intuition says that cold and legalistic disclaimers about obeying applicable law do nothing – but my spreadsheet already includes enough biases, judgements, and assumptions without attempting to grade these toothless paragraphs.
Call to Action
I believe that each of us, regardless of the role we play in our organization, has an opportunity to make an impact on safety, inclusion, equity, and diversity. For the less senior folks in the audience, I will echo the advice of one speaker at the RFS event: "Secure your own mask before attempting to assist others." There are still career consequences to making waves, and it's much easier to fall off the ladder than to move up it.
People whose privilege and authority are well enough entrenched that there is no risk in speaking up have an obligation to act and begin to correct the systemic biases we inherited. I shared some specific tips about what works (and what doesn't) – at all levels – in a recent talk.
Conclusion
Thank you for reading this far.
Experience suggests that I lost most of my target audience as soon as I mentioned "gender representation" in the title – but one can always hope. I think that we have a great opportunity to make real near-term changes to equity and inclusion in biotech simply by getting more people out of the stands and onto the field.
As I said in my slides, there comes a time in the leadership journey when culture becomes part of the job.
If any of the good folks in leadership roles at the venture firms happen to read this, know that I'm optimistic about the potential you hold. The explosive growth of biotech means that we have an opportunity here to make a dent in our biased culture today rather than waiting 20 or 30 years for the pipeline to make its slow corrections.
More than a billion dollars a year flows into biotech. The community is exquisitely attuned to the interests of "the money." Do we know whether "the money" looks askance at pitch after pitch by all-male teams? Do you insist that your scouts go far afield to find the very best and most innovative thinkers, or do they just meet up with the usual crew at the Tatte coffee shop on 3rd Street in Cambridge, just off of Binney Street?
I will close with a specific point: None of us should participate in all-male panels anymore. We all know that the correct response is to use the momentum in those invitations to open doors and adjust conversations. We shouldn't create, fund, or serve on all male boards of directors anymore.
It's time for equity and inclusion to become part of biotech's DNA.